The Montegancedo Campus of International Excellence (CEI) is committed to excellence in training, offering its students a personal and professional future allowing them to make a difference.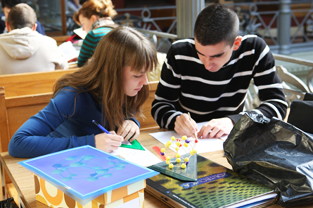 The Montegancedo Campus currently offers undergraduate, University and Official Masters' Degree and PhD Degree courses.   
This increase in the range of courses is allowing students to be attracted to the Campus so that, once their higher studies are finished, they will be able to undertake research work in the different areas of science and technology offered by the research centres that make up the Montegancedo Campus.
Our objective is to train future researchers to be able to integrate themselves into research centres and the industrial fabric itself acting as a link between experts in the scientific or engineering domain.
Proof of excellence in the training offered by our campus is that a third of new computer engineering students from the public universities of the Madrid Regional Government of Madrid have chosen the School of Computer Engineering (ETSIIN) at the Montegancedo Campus for their learning.
Student contact
Vice Rector's Office for Student Affairs
Student Services and University Extension Office
Pº Juan XXIII, 11 - 28040 Madrid
Tel: 91 336 62 54