A research team of the Centre for Plant Biotechnology and Genomics (CBGP), a joint centre between Technical University of Madrid and the National Institute for Agricultural Research and Experimentation, has reproduced a model of how plants of legume family distribute iron to ease the nitrogen fixation. The result was published in the prestigious British journal Metallomics Journal of the Royal Society of Chemistry.
The report, developed in collaboration with experts of the Advanced Photon Source of the Argonne National Laboratory, belonging to Department of Energy of the United States, aims to identify and characterize the mechanisms that play a role in the iron transport and which are allocated to the process of nitrogen fixation.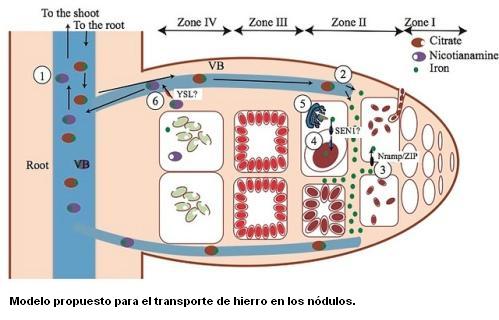 This finding will allow researchers to design strategies to increase the iron delivery, which is limiting of the development of the crops, and in the case of success, it would enable that legume had better abilities of how to use atmospheric nitrogen achieving a reduction in the use of pollutant nitrogen fertilizers.
This is the first report with x-ray of high power about the plant-microorganism interactions. As a result, researchers have used the most intensive x-ray source in the western hemisphere achieving the highest available resolution and sensitive.
"The long-term aim is to boost sustainable agriculture and to reduce the environmental damage caused by the overuse of nitrogen fertilizers", said the researcher of the UPM Manuel González-Guerrero, the main author of the paper. "This can be made by increasing the arrival of essential metal micronutrients to plant rhizobia, responsible for the nitrogen fixation".
The role of legumes in sustainable agriculture
The legume family includes, among other plants, peas, beans, alfalfa or soybeans. Its crop was traditionally used by farmers as main source of proteins of vegetal origin and to increase the amount of nitrogen in soils. This occurs due to the symbiosis established in structures different from the root, the nodule, where plant cells place the nitrogen fixing bacteria which are usually known as rhizobia.
The rhizobia use the nutrients provided by plants to convert the atmospheric nitrogen into nitrogen assimilated by the host plant. It is a biochemical process known as fixing nitrogen. This reaction is only made by microorganisms and is the main non industrial way in which the nitrogen comes into the nutritional networks in all the ecosystems. Many proteins involved in the nitrogen fixation use iron which is an element that in the case of rhizobia is provided by the plant host but it is usually available at low levels.
The research, led by González Guerrero, is a first step to enhance the nitrogen fixation trough a better access to limiting metal nutrients such as iron. It is expected to achieve a lower dependence on nitrogen fertilizer by these legume and other plants grown in rotation, which is a traditional strategy in sustainable agriculture.
SOURCE: UPM