Every year, over 600 students from different European universities enjoy a ERASMUS stay at UPM, which allows them to progress up their career ladder in the chosen fields, as well as, to know more about the Spanish culture.
The Erasmus Programme for the Mobility of University Students allows students to progress up the career ladder, as well as, to know more about the Spanish culture, improving languages, making a new set of friends or getting into the city of Madrid lifestyle. 
Apart from the student mobility, through this program students are given the opportunity for personal growth. In this sense, facing a mobility experience successfully, means learning how to move into a society in constant movement. Students will grow personally, having a nice chance to socialize.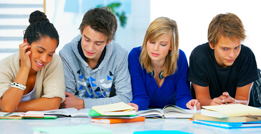 Furthermore, most of students who have joined the Erasmus Programme describe this period of time as very satisfactory. Spain is the country which receives the highest quantity of students at its universities. 
Get more info
If you are considering joining the Erasmus Programme, contact your university for further information. Check out if there is agreement between your university and the UPM by logging on to this web: www.upm.es/erasmus. 
October and February are the months when students usually joined the UPM. France is the country that provides the highest quantity of "Erasmus", adding up to around two hundred, last academic year. Other foreign students, who choose the Technical University of Madrid as destination for an ERASMUS internship, come from countries as Italy and Germany, which contributed, by providing 138 and 82 respectively, in the same period of time. 
Additionally, a guide aims at foreign students, is available being edited in three different languages: Spanish, French, and English. On one hand, it provides help and orientation to students about knowing specific arrangements, that they have to start before getting Madrid, during their stay in the city and when they go back to their country of origin. On the other hand, this guide makes their integration easier. 
Take part in Campus Life
Also, the Vice-Rector´s Office for Students through its Student Attention and University Range Service Department, as well as, ERASMUS coordinators and the International Relations Offices, which belong to UPM Departments, help to resolve every single kind of academic arrangements. Furthermore, the "ERASMUS" is within the reach of a wide range of culture and sport activities, that UPM draws up for students every year. In the same manner, Erasmus students can improve their Spanish knowledge, through courses aimed at foreign students, which UPM organizes every year. 
The goal of this wide offer is to facilitate successful student transition and integration into de Campus of the Technical University of Madrid.