Researchers at the UPM proved that the usage of high efficient air curtains in stores means an energetic saving over 30%.
This research, that was conducted by researchers from Escuela Técnica Superior de Edificación and from Escuela Técnica Superior de Arquitectura of Universidad Politécnica de Madrid (UPM), aimed to propose a strategy for energy saving and to improve the hygrothermal conditions in stores with intensive pedestrian traffic. After an exhaustive experimental analysis, researchers found that the usage of conventional air curtains hardly has advantages, but the usage of high efficient air curtains provides significant improvements in both efficiency and energy saving.


Today, the international laws aim to design and build facilities that reduce energy consumption and improve indoor hygrothermal conditions.

The commercial sector has a great amount of obsolete technical facilities that demand energy conservation measures to reduce the power consumption which is increasingly used for indoor cooling. This is a big problem for commercial locals located in areas with warm and humid weather and intensive pedestrian traffic because doors are constantly open.

A solution to reduce air infiltration is to install an air curtain to create an invisible barrier to efficiently separate two environments and without limiting the access of people. This consists of a ventilator placed at the upper part of the door that projects a downward air flow allowing the separation of the indoor and outdoor environments. Apart from stopping cool and hot airflows, the air curtains keep clear the indoor environment of insects, dust, particles, contamination and odors.

Researchers studied a shop in Javea, a city in eastern Spain with hot and humid weather. They conducted an exhaustive experimental research of thermal loads and hygrothermal conditions under three different situations: without climatic separation, with a conventional airflow and with high efficiency airflow.

The aim was to use the climatic separation through the installation of new air curtains and advanced hygrothermal control systems in order to minimize the energy loss in the shop and keeping temperature and accurate humid from indoor air.  After an exhaustive analysis, the obtained results show that energy saving in commercial buildings after the implementation of these systems exceeds 30%.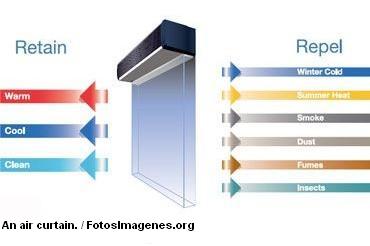 GIL-LÓPEZ, T; GÁLVEZ-HUERTA, MA; CASTEJÓN-NAVAS, J; GÓMEZ-GARCÍA, V. "Experimental analysis of energy savings and hygrothermal conditions improvement by means of air curtains in stores with intensive pedestrian traffic". Energy and Buildings 67: 608-615. DOI: 10.1016/j.enbuild.2013.08.058. Dec 2013.