UPM channel on i-Tunes U
The UPM channel on i-Tunes U receives over 15,000 visits and about 8000 downloads in ten months of activity, providing an offer of 138 videos.
In February 2011, the GATE created the UPM Institutional Channel on iTunes U aimed at providing open video related to education, and, in general, any academic content  produced entirely at our university. The videos may correspond to recorded classes, lab or field, simulations, teaching pills, etc.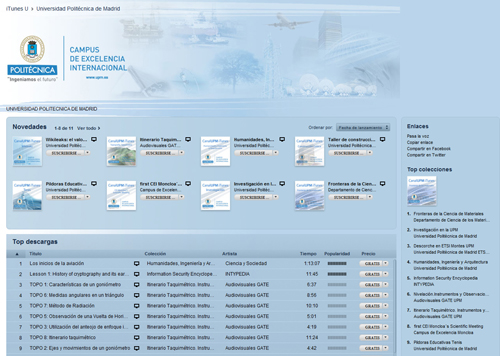 Currently, the offer includes 138 videos which have received up to 15,637 visits and 7771downloads. (1/19/2012 data). So far it has earned the interest of 491 subscribers and 39,001 subscriptions via RSS.
The videos can be viewed or downloaded from any Mac or PC or iPhone, iPod or iPhone. To do this, you must first download and install the free application which can be found at: http://www.apple.com/es/itunes/download/.
The iTunes platform was created by Apple in 2001. ITunes U section is intended for university accounts.
Teachers who wish to publish some academic content in this channel, can make the request in Virtual Polytechnic \ Teaching Education \ Teaching \ Requests academic \ Audiovisual services. The maximum size is 1 GB video.
The UPM has also Institutional YouTube Channel for the dissemination of audiovisual material from the University, the result of all of their activities (institutional, teaching, research, cultural, social etc.) Consequently, the type of content is more diverse. Currently, it is hosting 1278 videos that have received 2,669,000 visits and has 2471 subscribers.