Virtual Chemistry Experimental Lab
With this 3D technological tool, students can make practices to determine toxic elements in soil samples, avoiding risk and saving time and resources.

10.03.15

3D Technology allows professors to implement educative experiences hard to be included in normal conditions. That is the case of Virtual Chemistry Experimental Lab of Universidad Politécnica de Madrid, where students can make, among other activities, a practise to detect toxic elements (As, Cd, Cr, Cu y Pb) in soil samples, through mineralization in microwave oven and its analysis by atomic absorption spectrophotometry with Inductively Coupled Plasma (ICP-AES).



This practice belongs to Environmental Science subject of Civil Engineering Degree since course 2014 – 2015, and it was developed by Rosario Torralba Marco and Sara García Salgado, both professors at Escuela Técnica Superior de Ingeniería Civil, together with Tele-Education Office (GATE) technicians Carlos Salazar Calderón and Daniel Contreras.


In real World, this practice is really complex and needs special attention and care as it is an element determination at traces level. Furthermore, ICP –AES technique analysis requires specialized personnel. The costs of reactivates, which must be of high purity, and the analysis technique, are very high because of the argon use. All of this, joint to the total length of the experimental processes, between 6 and 8 hours, and its potential risk to students, justify its development in a virtual world, in which students spend about 2 hours.


However, virtual practices are a complement which can not fully substitute face-to-face practices. Students have to perform Chemistry practices in a real laboratory which allows them to recognise and manage material and reactivates, as well as, to get basic skills and, apply and consolidate theoretical knowledge taught in class.



Virtual Buildings of Experimental Chemistry Lab

The Virtual Chemistry Experimental Lab is compound of three buildings. The main one (on the left of the picture above) counts with a general laboratory where students perform easy activities, such us recognise lab material, weight samples or see different burner flames. It also has rooms where students have access to audiovisual material elaborated in different Educative Innovation projects such us: 14 videos of practices performed in several Chemistry labs of UPM, as well as, Quimi-trivial Game, which allows students to review concepts regarding this matter in a funny way.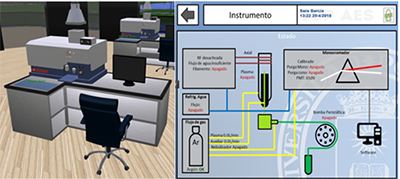 The other two buildings are dedicated to Environmental Engineering subject of Civil Engineering Degree, to perform the practice of determination of toxic elements. In one of them, students prepare samples and in the other, they calibrate instruments and make the ICP – AES analysis.


This practice starts with the preparation of the sample. The student, identified through its avatar, goes into the central building to weight three replicates of the sample, adds needed acids to mineralize them in the microwave oven and, once that is finished, dilutes mocks and samples. In this point, the student has to choose whether continue with the analysis or leave the solutions in the fridge and resume in other moment. If the student makes the first choice, he or she continues with the ICP-AES analysis. The student must prepare the calibration, introduce the conditions, switch on the plasma and measure the calibration and sample solutions. Each student gets different results which have to be related with initial weights and data, to issue an analytical report.


Precision weighing scales and reactors.
ICP-AES y detalle del software del instrumento ICP-AES and its software
• Video presentation of the practice performed by students in the virtual lab.
• Every person interested in this virtual lab, belonging or not to UPM, can apply for a guest avatar to explore Virtual Laboratories Service, managed by GATE.