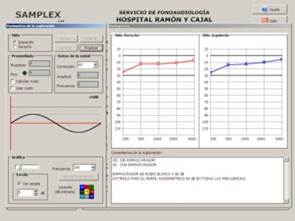 Cochlear microphonics, are the response to sound stimulation of the auditory sensory receptors. Due to its small magnitude, they are difficult to register and for this reason, they are not currently used for diagnosis in clinical audiology.
Our technique completely eliminates external perturbations that could mask these biological signals, achieving more accurate results than those obtained with other techniques. Besides the usual audiogram, the differential intensity level (recruitment) and other parameters and diagnostic audiological research interest is determined.
"AudioMC make simple and reliable diagnosis of hearing disorders in neonates and patients with little or no responsiveness, which so far has not been achieved with other techniques"