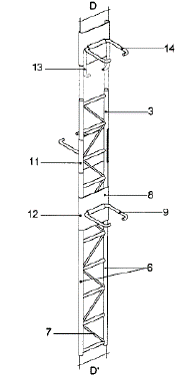 This device allows to fix different masonry walls and composed materials of different dimensions or nature, through the introduction of metallic elements, made of galvanized steel. It consists of two types of components, one vertical, located in the joint between the different masonries, and other horizontal, introduced in the interior of the courses.
The vertical component can be continuous or formed by discontinuous elements, aligned along the joint.
The number of elements, along the vertical component, will be in function of the rigidity that you want to give to the union and applicable technical regulations and it depends on the materials used.
"This solution resolves a constructive problem which consists in the appearance of cracks between two masonry elements"