Yesograf is a material which adds an inert industrial waste as a fine powder and, when it is added to gypsum and plasters, mechanical resistence is improved and thermal conductivity, acoustic insulation and electromagnetic insulation are increased. Currently, it has zero cost as an additive, and it improves in a significant way gypsum based materials that commercially have low resistance.
In addition, based on these mixtures and adding sands, this solution enables to prepare mortars. These mixtures can be used in construction on site or in prefabricated materials such as gypsum boards or sandwich panels, among others.
"Addition, at zero cost, as a fine powder that improves mechanical properties and increases thermal conductivity of materials which are used for radiant solutions"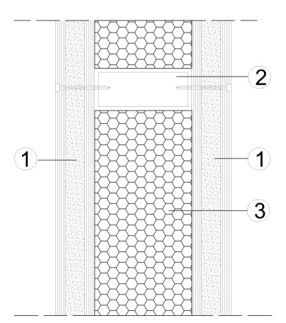 Detail of a partition with Yesograf on both sides (1), metalic or wooden strip as a structure (2) and insulation between boards (3). Preferably placed when it is dry.