HR Excellence in Research - HRS4R
As of the 17th July 2019, Universidad Politécnica de Madrid has become part of the group of universities and research centres that have obtained the European Commission award Human Resources Strategy for Researchers (HRS4R). This award recognises institutions that work on guaranteeing that their researchers' recruitment strategies are open, transparent, based on merit and skills, by following the principles established by the European Charter for Researchers and the Code of Conduct.
To receive this award, UPM presented an Action Plan and a Gap Analysis with the aim of aligning its Human Resources policy to the principles of the European Union, which have the objective of contributing to the development of a European labour market which is attractive for researchers.
A number of the proposed actions outlined in the Action Plan have progressed prior to the concession of the award, as they are considered to be desirable for the University, beyond HRS4R. From July 2019 however they have become compulsory milestones; currently we are in the middle of the Implementation Phase which will undergo an Interim Assessment in 24 months from the award's date; UPM has actioned the following: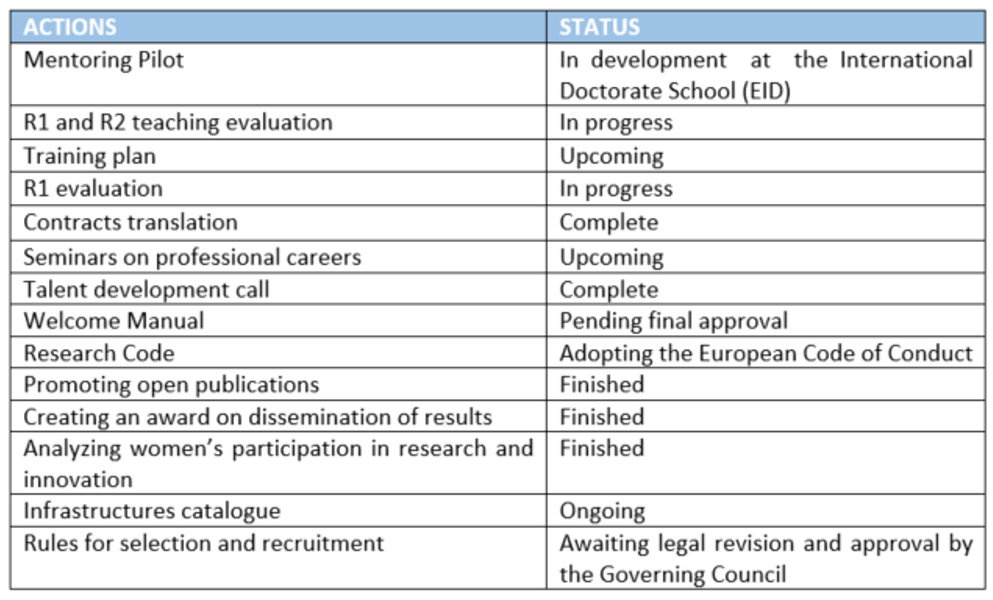 UPM is highly involved in European funded projects. Obtaining this award guarantees the quality of any institution's recruitment process but in UPM's case, it is pivotal to ensuring we can continue participating competitively in H2020 and Horizon Europe.
UPM's Governing Board has a direct involvement in this process as part of the team committed to it, especially the Vice Rector for Quality and the Vice Rector for Research, Innovation and Doctoral Studies, as well as various management bodies who implement some of the initiatives, such as the International Doctorate School, Financial Affairs& Management Department, the Research Projects Area and the recruitment bodies. At the same time, the Governing Council of the university is informed monthly at the Research Commission of the status of each of the actions.
UPM presented an Analysis document and an Action Plan to obtain the European Award "HR Excellence in Research" concerning HR policies for researchers.
Events:

Seminar on HRS4R for Managers and Researchers [20th February 2019]

UPM's Researchers Selection and Recruitment policy  [3rd February 2020}

For more information:

https://euraxess.ec.europa.eu/

https://euraxess.ec.europa.eu/jobs/hrs4r