New Human Brain Project Facility Hub at UPM available to the community
Focused Ion Beam (FIB) milling and Scanning Electron Microscopy (SEM), located at the Centro de Tecnología Biomédica (Laboratorio Cajal de Circuitos Corticales, Universidad Politécnica de Madrid) and led by Prof. Javier de Felipe, are now available as part of a new Human Brain Project (HBP) Facility Hub.
June, 2022
The combination of focused ion beam milling and scanning electron microscopy is a method that permits the rapid and automatic serial reconstruction of large tissue volumes. The FIB/SEM facility is intended to be a leading center for detailed synapse studies using 3D electron microscopy, and for the generation of high-resolution images of brain regions in the millimeter to nanometer range.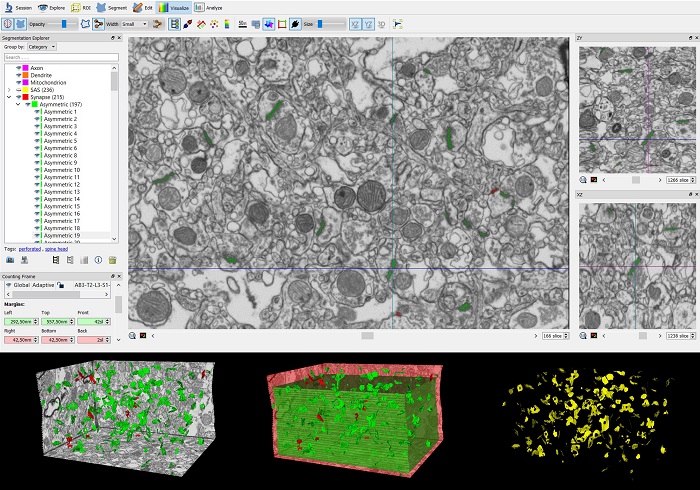 This FIB/SEM facility is associated with high-level scientific and technician staff who will provide the necessary expertise in electron microscopy to ensure that any scientist can benefit from this facility, regardless of whether or not they have experience in electron microscopy.
The Human Brain Project Facility Hubs offer users from academia and industry around the world to use the state-of-the-art facilities and resources of HBP partner institutions, to foster collaboration and carry out cutting-edge scientific research. They are contributions from HBP partners to the new EBRAINS research infrastructure, and complement the EBRAINS services currently on offer.