Environmental impact of microplastics studied in terrestrial ecosystems
A group of researchers from the UPM, the UCM and the UAH have developed bioassays to analyse the plastic waste effect and its role as a carrier of organic pollutants in terrestrial ecosystems and organisms.
22.10.21
Plastic waste is a priority environmental issue because of its effect on soil and its capacity to carry emerging pollutants such as pharmaceuticals and pesticides. As a result, many studies have been undertaken on microplastics (MPs) in several ecosystems and organisms in recent years. A team of researchers from the Universidad Politécnica de Madrid (UPM), the Universidad Complutense de Madrid (UCM) and the Universidad de Alcalá de Henares (UAH) has carried out research whose aim is to evaluate the impact of two types of MPs used in the cosmetics industry and their interactions with two emerging pollutants -ibuprofen and simazine- in different organisms. The results obtained reveal the importance of designing a complete set of analyses with organisms from different trophic levels to establish food safety regulations.
Source: Pixabay.
The use of plastics has become widespread around the world since the mid-20th century. This use offers many advantages to everyday life, such as lightweight transport, durability, and adaptability to many functions. The global production of plastics reached 359 million tonnes in 2018. However, plastic waste accumulation has become a severe environmental issue concerning durability.

In recent years much attention has been focused on MPs in ecosystems and organisms. MPs are plastic particles or fibres with a maximum length of 5 mm, resulting from plastic waste degradation. However, other MPs are present mainly in the cosmetics and pharmaceutical industry. Several studies have related pollution to these tiny plastic pieces in aquatic ecosystems. However, their impact on terrestrial ecosystems and organisms has not been analysed in depth.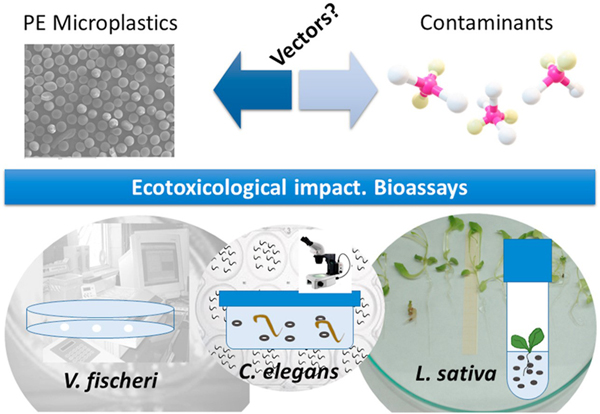 MPs can play the role of contaminant vectors in terrestrial organisms. Source: ScienceDirect
These researchers carried out specific bioassays for reference organisms from different trophic levels to establish the ecotoxicological impact of MPs and organic pollutants. Specifically, they studied an earthworm (Caenorhabditis elegans) and a cultivated plant (Lactuca sativa). The model organisms were studied through in vitro assays in a first approach. "The results make it possible to assess their effect on these organisms, which reduces the risk of underestimating or overestimating the ecotoxicity of MPs," says Carmen Martín, a researcher in the PLANGER Plant Germplasm Research Group at the UPM's School of Agricultural, Food and Biosystems Engineering (ETSIAAB). She was part of the research team that carried out the study.
The results showed that Caenorhabditis elegans was the least sensitive organism, while Lactuca sativa showed a high toxicity response to MPs. One of the tested plastic residues caused a 70% reduction in seed germination. With both types of residues, a significant decrease in both leaf and root development (in Lactuca sativa) was detected that also reached values of about 70% inhibition of development. Their potential role as contamination vectors was tested using MPs that had absorbed the contaminants ibuprofen and simazine.
In vitro system with MPs (a) and MPs with adsorbed organic pollutants (Ibuprofen and Simazine) and the seedlings obtained (b, c, d). Source: ScienceDirect.

The authors of this study highlight, "this study reveals the need to design a battery of standardised bioassays with organisms from different trophic levels, considering the great variability of the effect of MPs and the great number of environmental factors in the different ecosystems". Their use would promote the establishment of clear regulations affecting mainly food safety. "However, a clear lack of data on the potential risks of MPs in the terrestrial ecosystem means that these studies could help to describe the role of MPs as "contaminant vectors" and thus to assess their impact on the terrestrial ecosystem," the researchers conclude.
CARMEN MARTÍN, CARMEN FAJARDO, GONZALO COSTA, SEBASTIÁN SÁNCHEZ-FORTÚN, MARÍA DOLORES SAN ANDRÉS, FERNANDO GONZÁLEZ, MAR NANDE, GERARDO MENGS, MARGARITA MARTÍN. Bioassays to assess the ecotoxicological impact of polyethylene microplastics and two organic pollutants, simazine and ibuprofen. Chemosphere. Volume 274, July 2021.
Source: 'e-Politécnica Investigación e Innovación' (number 583), UPM's newsletter.