SUNSON, the new Horizon Europe project aiming to store sunlight at the highest temperature ever recorded
The project coordinated by UPM aims to promote a new generation of highly compact and efficient CSP plants in order to create a more flexible renewable energy sector.
"Sun's Son" is the acronym of this European Project which aims to store solar energy with temperatures in excess of 1200°C. This is more than twice the operating temperatures of current concentrated solar power (CSP) plants. The project aims to promote a new generation of highly compact and efficient CSP plants in order to create a more flexible renewable energy sector. To meet this challenge, the proposed solution combines solar concentrators with advanced optics, advanced phase change materials (PCMs) for thermal storage, and thermophotovoltaic converters for electricity generation in a single system.
The project is funded under the Horizon Europe scheme and by the European Agency for Climate Infrastructure and the Environment (CINEA). SUNSON comprises a multidisciplinary consortium led by the Polytechnic University of Madrid (UPM), which includes 6 European organisations ranging from SMEs (IONVAC Process and HOLOSS), technological centres (IDENER), public centres (CIEMAT) through to universities (UPM and NTNU). The areas of specialisation cover a wide range of disciplines and are all focused on the solar energy and sustainability sector.
SUNSON proposes a significant breakthrough for the renewable energy field (especially solar energy), where the major limitation is a lack of economic and efficient solutions when there is intermittent demand. Specifically, the objective of SUNSON is to demonstrate the feasibility and potential of a solution that integrates energy conversion and storage in a single highly modular and compact device (SUNSON-BOX).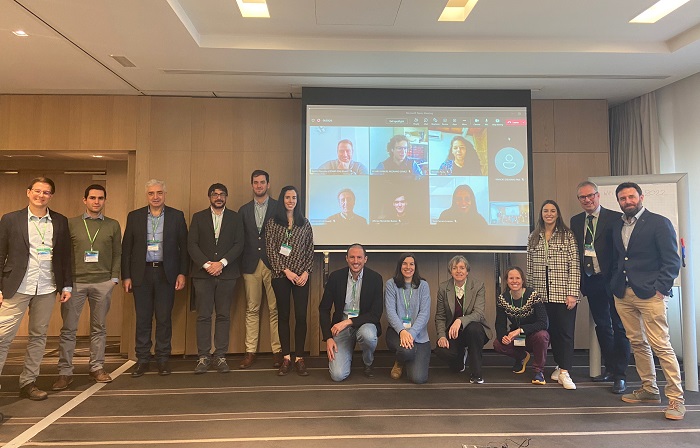 The system is based on conversion technology which uses solar energy to first produce and store heat, and which later generates electricity on demand. This decoupling removes the dependency of variable renewable sources, thus increasing its flexibility for energy integration. This will allow electricity to be produced according to demand and, in turn, allow any excess heat to be used in industrial heat processes, domestic hot water or heating. For this reason, the application of this system offers considerable benefits for the energy, industrial, and building sectors, and additionally for future hydrogen generation. In order to facilitate its design, feasibility and replicability, the project will also develop a powerful computing tool (SUNSON-TOOL) which integrates artificial intelligence algorithms.
During the next 4 years of the project, the SUNSON team intends to develop a prototype that is 10 times more compact than conventional CSP systems thanks to the incorporation of PCMs that store energy in the form of heat at temperatures above 1200°C. At these temperatures the heat becomes incandescent, and the system incorporates thermophotovoltaic converters that directly transform incandescence into electricity. The technology will be validated at the Plataforma Solar de Almería (PSA-CIEMAT), a leading centre for solar thermal technology research, and who will also facilitate the future development and commercialisation stages.
The kick-off meeting took place on 19 January 2023 in a hybrid event organised in Brussels and broadcast online, to facilitate participation amongst the entire project team. The objectives, impacts and work plan of the project were reviewed in detail. Professor Alejandro Datas, Project Coordinator, commented that: "The SUNSON project will aim to solve one of the biggest energy challenges that we are facing this century: the uninterrupted supply of renewable energy. If successful, the technology developed by SUNSON aims to enable a new generation of more compact and efficient solar thermal systems that can produce power whenever it is needed, regardless of whether the sun is shining or not."