The research, carried out by the School of Forestry, has observed an improvement in the colonization rate of the black truffe in the aleppo pine roots after inoculation seedlings with the strain of the rhizobacteria Pseudomonas fluorescens combined with black truffles. This technique could extend to forest species, specially, producers of black truffles such as oak and hazel which could enhance their production.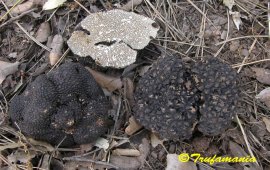 The fungi inoculation of mycorrhiza and rhizobacteria (fungi and bacteria that live in symbiosis with the plant roots) in forest plant can be used as a technique to improve the morphology and physiology quality of the own plants, specially, they aim to regenerate semi-arid or degraded areas.
In some cases, this technique can allow them the reintroduction of certain fungi of mycorrhiza of interest in these areas. In addition, some rhizobacteria called "Mycorrhization helper bacteria" (MHB) can improve the establishment and performance of the symbiosis between the host plant and the mycorrhizal fungus.
It is unquestionable that the black truffle (Tuber melanosporum) is the most ecological, inexpensive and social fungi of mycorrhiza in rural environments. For this reason, researchers of the group "Economics for a Sustainable Environment" at the School of Forestry of the UPM have studied the effect of certain bacteria in truffle cultivation.
In particular, they inoculated a strain of the rhizobacteria Pseudomonas fluorescens on seedlings of Aleppo pine combined with the black truffle, and they analyzed their morphophysiological effects in these seedlings. They observed that, in conditions of unsuitable soil pH for the growth and development of the fungi, the bacterium P. fluorescens enhances the colonization rate of the black truffle on the pine roots.
In general, although pines do not usually produce the precious fungus Hypogeum, their root can engage in symbiosis with it, therefore these result can be promising for its application in truffle cultivation.
1Dominguez, J. A.; Martin, A.; Anriquez, A.; Albanesi, A. The combined effects of Pseudomonas fluorescens and Tuber melanosporum on the quality of Pinus halepensis seedlings. MYCORRHIZA, 22 (6):429-436; 10.1007/s00572-011-0420-0 AUG 2012