Brief description of the technology solution and the added value it provides
GreenCPD provides methods and tools to reduce the total energy consumption pretty much below the available technologies in the state of the art. Unlike previous approaches, we use knowledge about the cooling and computing resources, as well as the applications, and the previous execution history to deliver non-intrusive proactive strategies for minimizing the energy requirements and, at the same time, to increase the reliability of the resources by avoiding thermal hotspots or thermal stress.
The green data center market is rapidly growing. By 2010 data centers consumed 1.3% of worldwide electricity use and produced 2% of total CO2 emissions. Power density frequently exceeds 60 kW/m2. Many data centers already have a lack of power and cooling capacity to meet the needs of such high-density equipment. The flexible GreenCPD architecture will ensure continuous adaptation to present and future requirements, coordinating actions at different abstraction levels and multiple scopes to decrease the total energy consumption beyond the state of the art.
Description of the technological base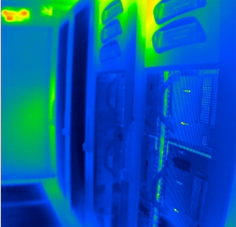 Global strategy and tools to use multiple information sources and to coordinate decisions at different levels in the data center aimed at a common objective: reducing the total energy consumption.
Innovative components of the GreenCPD architecture include:
– Automatic energy characterization and classification of the workload.
– Optimal resource selection taking into account cooling resources, computing resources and the applications.
– Leveraging the heterogeneity of the data center to reduce energy consumption.
– Automatic application-aware management of resources, low-power modes, just-in-time compilation, etc.
– Enhanced reliability by avoiding failures due to high temperatures or thermal stress.
"By taking advantage of the heterogeneity of the resources in the data center, the IT energy consumption can be reduced up to 30%."
Market demands
By 2000 data centers used 0.53% of the world's total electricity consumption. By 2010 data centers consumed approximately 235.5 BkWh, representing 1.3% of worldwide electricity use.
Due to the rapid growth of the data centers capacity, the power densities handled by their infrastructure and energy consumption have grown dramatically. The electricity bill, including computation and cooling costs, is over $7 billion only in the US and the power density exceeds 60 kW/m2.
According to Gartner, 50% of current data centers already have a lack of power and cooling capacity to meet the needs of high-density equipment. A survey of 369 IT professionals performed by OnStor reported that 63% of survey respondents have run out of power or cooling without warning.
Current data centers need:

to take into account many different aspects at the same time in order to minimize the total energy consumption, as cooling is not dominant any more;
to significantly decrease their energy consumption and their peak power needs to avoid power outages, specially in urban data centers during the summer;
to apply reactive and proactive techniques to adapt the energy consumption to internal and external changes of requirements (peak load or outage avoidance systems of smart grids).
"Worldwide data centers produce 2% of global CO2 emissions"
Competitive advantages
Holistic approach. We optimize energy consumption by taking into account the thermal state of the datacenter, workload energy requirements, thermal and energy characteristics of the cooling and computing resources, and recent execution history.
Proactive strategies besides reactive ones. We use knowledge about workload and resources to anticipate the energy requirements and to plan in advance.
Application-aware. We have proven that, by taking advantage of heterogeneity in IT resources, resource allocation algorithms can be improved to decrease the total IT energy consumption by 30%.
Non-intrusive. Our approach does not require radical changes in the infrastructure nor the management software. Data gathering, data analysis, and automatic control modules can be added gradually with no impact in performance or service discontinuation.
Adaptable. The flexible architecture of our dynamic optimization system can be easily customized to specific needs. The decision support system is continuously learning what works and what doesn't.
Previous references
CeSViMa-UPM supercomputing center. Reached in June 2011 TOP500 top 1 of Spain, 44 of Europe and 136 of the world, providing a peak performance of 103.4 Tflops and 72.03 of capable TFlops. Also reached position 18 in Green500 (June 2011). Currently installing a prototype.
Development stage
Concept

R&D

Lab-Prototype

Industrial Prototype

Production
Contact
Contacto GreenCPD
José Manuel Moya
Laboratorio de Sistemas Integrados
ETSI Telecomunicación – UPM
e:
Contacto UPM
Área de Innovación, Comercialización y Creación de Empresas
Centro de Apoyo a la Innovación Tecnológica – UPM
e: