Brief description of the technology solution and the added value it provides
Power converters with the same nominal power may process very different "internal" or "indirect" power, which is the metric that determines their volume, weight and losses. The fundamental lower limit of this "indirect power" may be calculated, and defined as "Differential Power".
"3-port Power converters" required in energy buffered architectures for PV panels, batteries and renewable energy can be designed with a 2x reduction in losses, weight and volume.
Description of the technological base
A single-stage power converter replaces the typical 2 stage architectures, either cascaded of with Parallel Active Filter.
The power converter is synthesized besed on the Fundamental Limit of indirect power. The proposed topology is a 3-level inverter, but the flying capacitor is used also as line frequency storage capacitor. This is the key innovation.
The "indirect" power processed by the power components is half of the power processed by state of the art architectures, which yields a 2x factor reduction in losses, weight and volumen.
Market demands
PV for industrial and domestic self consumption
Installed power is growing consistently in the last years, as a consequence of hte price reduction of the PV panels, which are cost effective without any subsidize.
Every PV installation uses one inverter as the ones proposed here, which reduce loss by a factor of 2x.
"Price of PV is competitive now and installed power is growing consistently. Our technology replaces current bulky inverters for efficient, light weight power converters"

Competitive advantages
There is an expected factor of 2x in the reduction of losses, weight and volume of inverters for PV panels and batteries for domestic self-consumption.
This factor is based on the fact that the power components of the proposed inverter processes half of the power than commercial products.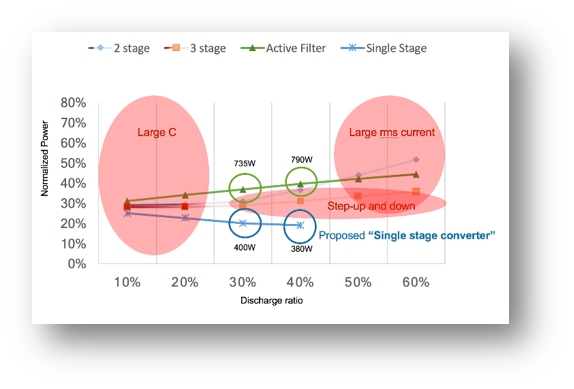 Development stage
Concept
Research
Lab prototype
Industrial prototype
Production
Contact
Contacto Differential Power
José A. Cobos
Centro de Electrónica Industrial CEI-UPM
e:
w: http://www.cei.upm.es/people/faculty/jose-antonio-cobos/
Contacto UPM
Área de Innovación, Comercialización y Creación de Empresas
Centro de Apoyo a la Innovación Tecnológica – UPM
e: