MSCA ACTIONS
MSCA is the European Union's flagship programme to support scientific excellence and cooperation across countries, sectors and research fields

MSCA ACTIONS IN HORIZON EUROPE
EU's reference programme for doctoral and postdoctoral training, contributing to:
 A highly skilled research-based human capital able to detect and tackle upcoming challenges, communicate scientific evidence to policy-makers and the public, and work across disciplines
Provide researchers with skills needed in the labour market, to innovate and to convert knowledge and ideas into products and services for economic and social benefit
Develop excellent doctoral programmes enhancing the global attractiveness and visibility of institutions involved in them
Promote the EU's global attractiveness for talents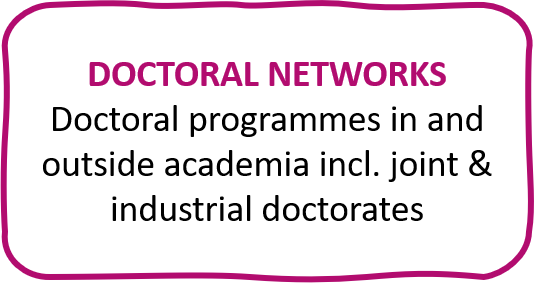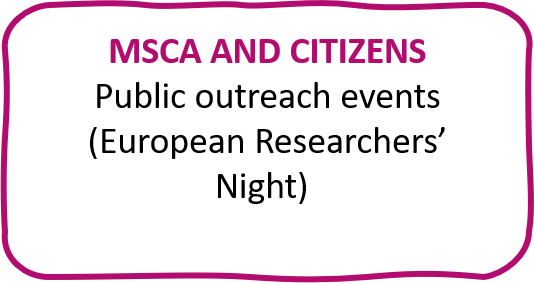 MSCA ACTIONS IN UPM
Contact at UPM: Patricia Benito
Doctoral Networks drive scientific excellence and innovation. They bring together universities, research institutes and other sectors from across the world to train researchers to doctorate level.
Besides standard Doctoral Networks, there are incentives in place to introduce two specific types:
 European Industrial Doctorates
European Joint Doctorates
Postdoctoral Fellowships (PF) are aimed to experienced researchers looking to give their career a boost by working abroad. 
Two types of Individual Fellowships:
European Fellowships
Global Fellowships
UPM Postdoctoral Fellowships website 2023
UPM MSCA Infoday 2023 (coming soon)
Research and Innovation Staff Exchange funds short-term exchanges of personnel between academic, industrial and commercial organisations throughout the world. It helps people develop their knowledge, skills and careers, while building links between organisations working in different sectors of the economy, including universities, research institutes and SMEs.
Co-funding of regional, national and international programmes (COFUND) provides organisations with additional financial support for their own researcher training and career development programmes.COFUND supports doctoral programmes for PhD candidates, as well as fellowship programmes for experienced researchers.
Check the website of UPM COFUND SDGINE

European Researchers' Night is a wide public event that brings researchers closer to the public. The events highlight how researchers contribute to our society by displaying their work in an interactive and engaging forum.
It is held every year, on the last Friday of September
OTRI UPM (Oficina de Transferencia de Resultados de Investigación) is the department in charge of this event at UPM. 
Check UPM´s European Researchers' Night website
MSCA CALLS -  OPENING & DEADLINE

Volver